How to Recover Missing Emails in Outlook 2016?
Views: 3212
Comments: 2
Like/Unlike:
2
Posted On:
25-Mar-2021 07:18
Share:
Summary: In this post, we have covered the issue of Outlook 2016 missing emails. We have provided the reasons behind this problem. We have also provided ways to resolve the issue and recover the lost Outlook emails.
Sometimes, Outlook users complain that they can't see some emails in their Inbox. This sudden disappearance of emails in Outlook 2016 not only leads to frustration but also hampers the work. So, what causes this problem and how can you recover the missing Outlook emails?
What are the Reasons that may Result in Missing Emails in Outlook 2016?
Outlook 2016 users may face the problem of missing/lost emails due to the following reasons:
· Incorrect Configuration Settings: Incorrect IMAP/MAPI/POP3 email account settings in Outlook can result in the issue of missing emails.
· Filters and Sorting Options: If you have set a wrong sorting option for your Outlook Inbox (sort by Date, Size, Subject, etc.), you may face difficulties in finding the desired emails. If filters are enabled, then Outlook will move certain emails directly to a separate folder, skipping the Inbox.
· Accidental Deletion of Emails: Sometimes, Outlook users accidentally delete emails and think that the emails are lost/missing. However, they can recover these emails from the Deleted Items folder within a certain period (7 days, unless changed by the administrator).
How to Recover Missing Outlook 2016 Emails?
To retrieve missing Outlook 2016 emails, follow the solutions explained below in detail.
1. Check Outlook Folders
The first thing you should do when you can't find certain emails is look for these emails in these Outlook folders:
· Deleted Items: Deleted emails in Outlook are sent to the Deleted Items folder first. Unless the emails are purged from this folder, you can recover them here easily.
· Archive: If AutoArchive is enabled in Outlook, the application automatically sends older messages to Archive folder.
· Junk Email: Sometimes, Outlook sends emails to the Junk Email folder if there are certain keywords in the email body that trigger the spam filter.
2. Use Outlook Search
To find missing emails in Outlook 2016, you can use Outlook Search function. This function is available under the menu bar.
To search for a particular missing email, enter a phrase or word related to that email in the search box. You can also refine the search by selecting appropriate location in the right-side menu (in the above image, the search is conducted inside Current Mailbox). You can also sort the search results by selecting options, such as Date, From, To, Size, Subject, etc.
3. Check Mailbox Filters
Sometimes, Outlook mailbox filters can make some emails disappear. You can change the filter settings manually and recover missing emails in Outlook 2016. To do that, follow these steps:
1. Launch Outlook and open the View tab.
2. Click View Settings.
3. In the Advanced View Settings window, click Filter.
4. Open More Choices tab. Unselect all checkboxes (if already selected) and then click OK.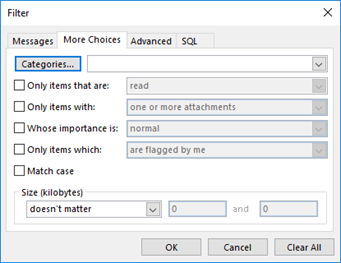 4. Create a New Outlook Profile
Outlook profile may get corrupt due to abrupt system shutdown, virus infection, etc. If that happens, you may encounter the problem of missing emails in Outlook 2016. You can create a new Outlook profile and set it as the default profile to fix the problem.
How to Recover Lost Emails in Outlook When PST is Corrupt?
If Outlook emails are lost due to PST corruption, then you can use ScanPST or Inbox Repair Tool to repair the file and recover missing Outlook emails. However, if the PST is severely corrupt, then ScanPST may fail to repair the file. In such a case, you need to use an advanced third-party tool to repair the Outlook data file. Stellar Repair for Outlook is one such utility that repairs severely corrupt PST files with high efficiency. It also recovers deleted messages. You can use this tool to recover missing emails in Outlook 2016 in a few simple steps.
Conclusion
When emails go missing in Outlook, you can search the emails in Junk/Spam folder or Deleted Items folder. Sometimes, Outlook data file (.PST) corruption may also lead to the issue of missing emails. In such a situation, you can repair the PST file to resolve the issue. For minor corruption, ScanPST is effective in repairing PST file. If the file is severely corrupt, you can use an advanced PST recovery software to repair the file and resolve the issue of missing emails.
2 Comments